Julie Posted on January 11 2018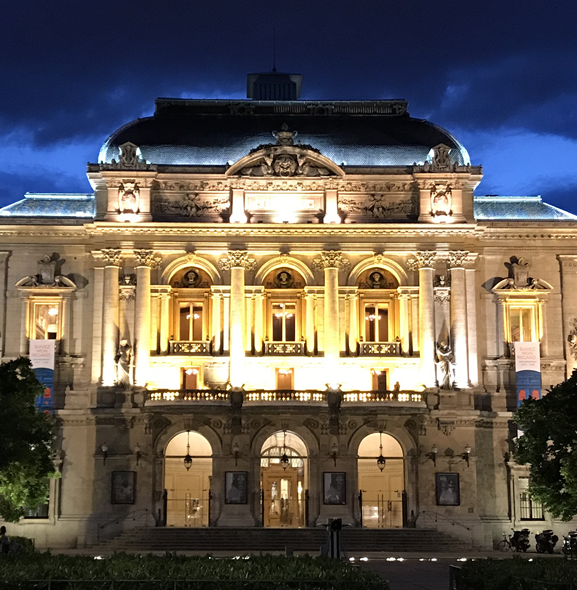 When my friend Gina and I travelled this past summer, we had big plans to see 3 different countries - but 3 weeks wasn't really enough time to cover a whole lot of places in Italy, France and Austria so we ended up just swerving over to  Lyon for a few days before heading to Austria. Ok, it was less of a "swerve" and more of a 4 hour train ride plus a 2 hour delay on the tracks somewhere in Turino for completely unknown reasons. But we made it and Lyon was BEAUTIFUL! 
Our biggest goal? Walk to the Basilica of Notre-Dame de Fourvière from where we were staying. Walking because 1) it was cheap, 2) we could burn calories from all the carbs we were eating and 3) we could really enjoy the city and stop at-will while we were walking. So it was maybe an hour and half away by foot but it was HOT and the last 1/2 hour was pretty much straight uphill. So it probably took us 3 hours - including stops along the way to make sure we didn't pass out - which by the way was a real possibility! 
Here is one of the photos taken along the way - I don't know why but I'm very drawn to rusty things and I loved this abandoned garage (Le garage du palais) on rue de la Bombarde. I took this photo and then created an art print from it (that can be purchased on my Etsy store) - 
SparkOnGifts Etsy Store - Lyon Garage Art Print
and this photo is of a street with shops in Lyon France and the artwork was created digitally by hand using both watercolor and oil painting techniques. The shops were on place Ennemond Fousseret. 
SparkOnGifts Etsy Store - Lyon Shops Art Print
 When we made it to the top of the mountain - ok - maybe it was just a big hill - it just felt like a mountain - the basilica was stunning both inside and outside. Inside the church we just stood there in awe trying not to sweat on anything and feeling very small inside such grandeur. 
Going back down the mountain was much easier of course. Although we were always on the verge of running out of juice for our phones so the walk back was a harrowing race to make it back to our host's apartment before our phones - and Google maps - shut down on us. 
That night we had the most amazing food ever at this little Norwegian salmon restaurant and I enjoyed trying to decide if I should be worried that the desserts might contain salmon or if the desserts might actually be deserts :)
My favorite part about Lyon was the nighttime ambience - everything was lit up and on the night before we left the sky was preparing for rain the next day and it just glowed beautiful shades of dark blue. I took this photo of the Théâtre des Célestins and created an art print from that as well: 
SparkOnGifts Etsy Store - Lyon Theater Art Print
In commemoration of our stay in Lyon, I created a Lyon France t-shirt with the emblem of Lyon and the words Heart of Lion / Lion at Heart in French.  https://mjteeboutique.com/collections/france-collection